Text message alerts!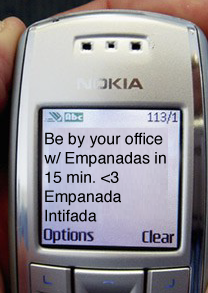 Empanada Intifada could be anywhere depending on the vicissitudes of weather, parking, plain old dumb luck, and the whims of its pilots. Luckily future-seeing crystal balls have been placed in your phones and computers.
Check out our free text-message service and get an alert any time we're in your area
The Lost Art of Receiving Emails
Perhaps in this day and age of texts, push alerts, and micro-tweeting haiku status updates, you just want to relax, let your hair down, and hear about our plans, aspirations, perspirations, and more in long form via email (~1 email per week). We do that too! Sign up!